ASG Group officially operates a chemical warehouse
in Yen Phong Industrial Park (Bac Ninh)
On April 2, 2021, ASG Group Joint Stock Company completed the construction investment and officially put into operation the chemical warehouse with an area of ​​5,742 m2. , operated by ASG Group Joint Stock Company – Bac Ninh Branch (ASGBN), belonging to the ASG logistics service area in Bac Ninh with a scale of 28,166 m2 in Yen Phong Industrial Park, Bac Ninh province.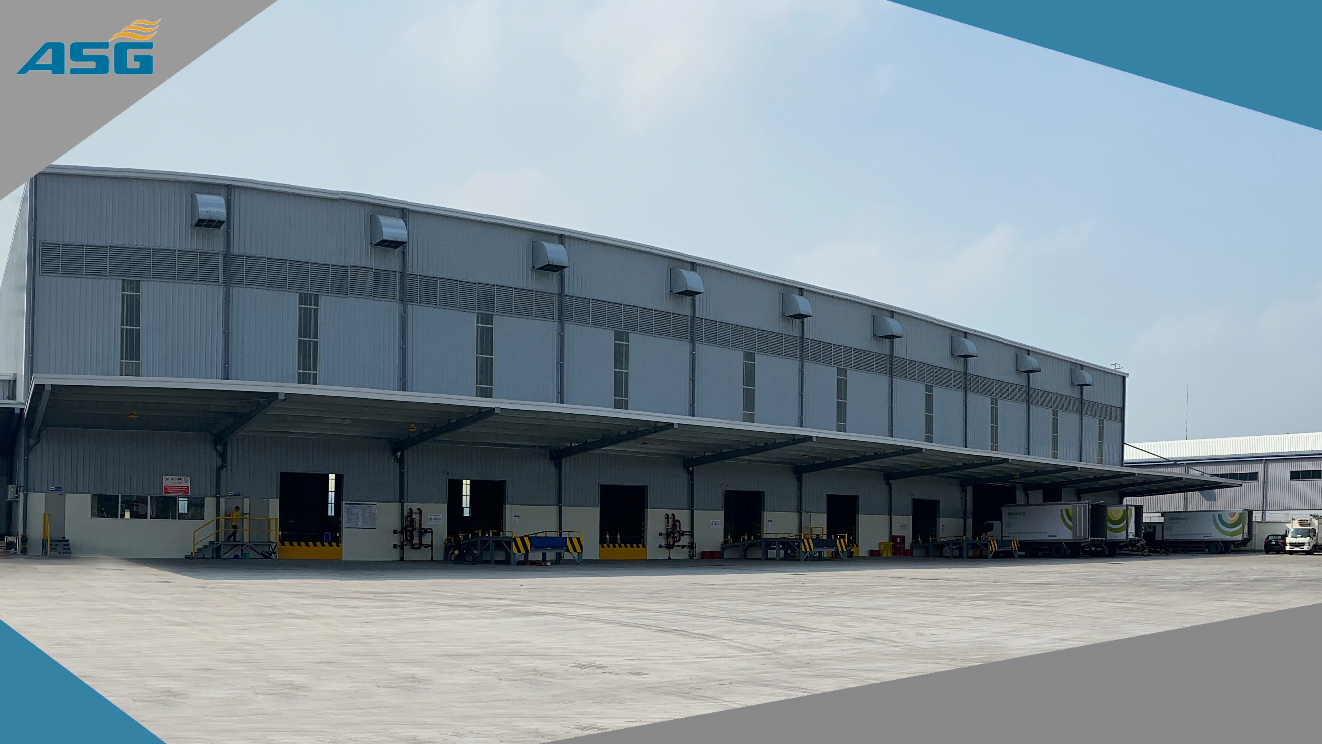 Picture of chemical warehouse
ASG's chemical warehouse is one of the largest chemical warehouses in the North with modern infrastructure and equipment according to international standards. QCVN 05A:2020/BCT meets the high requirements of domestic partners, customers, FDI companies in storing and preserving dangerous chemical goods. Chemical warehouse equipment includes: Modern fire protection system Hochiki – Japan; Modern explosion-proof LED lighting system meeting European standards ATEX with a capacity of 150W and a luminous flux of up to 15300lx; Standard chemical troubleshooting system is arranged around the warehouse; CCTV system with 51 H.265 compression standard 2MP infrared camera heads to monitor all key locations and activities taking place in the warehouse 24/7; Racking system and modern environmentally friendly picking vehicles include electric vehicles: Reach Truck; Forklifts of famous brands Mitsubishi, Komatsu…
Besides investing in modern infrastructure and equipment, ASG also always focuses on investing, developing people, equipping necessary tools according to Humans ensure safety for workers in the process of production and business, specifically: Training 100% of chemical managers and operators on chemical safety techniques according to Decree 113/2017/ Decree-CP; Develop an HSSE (Health, Safety, Security and Environment) Management System that is compatible with the requirements of the ISO 45001, OHSAS 18001 series of standards; Invest in modern and professional warehouse management IT software solutions (WMS) to meet diverse business requirements for customers.
Picture inside ASG chemical warehouse
HSSE fitted image & Modern fire fighting system (Foarm)
Image of the dock area for loading and unloading goods
With the put into operation of the Chemical Warehouse, ASG has diversified the provision of Integrated Logistics Services (Integrated Logistics Service) not only for all kinds of goods. but also meet the growing demand for storage services, preserving special goods, providing the best service experiences at optimal costs for customers.
ASG CORPORATION
Head Office: Logistic Services Center, Noi Bai International Airport, Phu Minh, Soc Son, Ha Noi, Viet Nam
Rep. Office: Room 406, 4th floor, Plaschem building, No.562 Nguyen Van Cu street, Gia Thuy, Long Biên, Hanoi
Tel: +84 24 3761 6688 – Email: info@asg.net.vn 
© Copyright 2016 - Phát triển bởi Bidesign.vn