ASG Corporation officially announced the financial report for the fourth quarter of 2022. By the end of the fourth quarter, the accumulated revenue achieved a significant increase, reaching nearly 1.980 billion VND, reaching 274% compared to the same period in 2021 and achieving 114% of the whole year plan; consolidated pre-tax profit reached 197,3 billion VND, up 232% over the same period last year.
The impressive growth of the general business results in 2022 must be attributed to the main contribution of Logistics with the accumulated revenue by the end of the fourth quarter reaching 1.746 billion VND, higher 2,6 times than the same period in 2021. In addition, with the gradual recovery of tourism and aviation, the airport aviation services group (including food & beverage services and aviation ground services) contributed to the consolidated revenue of the company with 106 billion VND, higher 3,2 times than the same period last year.
About member companies, Vinafco Joint Stock Company (VFC, stock symbol VFC-Upcom) – A subsidiary owned and controlled by ASG since May 2022 has announced its financial statements with the fourth quarter revenue reached 422 billion VND, accumulated revenue reached 1.619 billion VND; pre-tax profit in the fourth quarter reached 45 billion VND and accumulated pre-tax profit reached 236 billion VND. In addition, Cam Ranh International Airport Services Joint Stock Company (CIAS, stock symbol CIA-HNX) has profited from its main business, along with completing the transfer of AGS Company to the parent company ASGA, CIAS achieved an accumulated pre-tax profit of 61,7 billion VND, accumulated revenue for the whole year reached 106,3 billion VND.
Besides the growth in revenue, ASG's EPS also improved significantly, reaching 1.173 VND compared to the same period last year of 794 VND. The total accumulated consolidated assets of ASG have reached 3.030 billion VND, an increase of nearly 1.000 billion VND compared to January 1, 2022.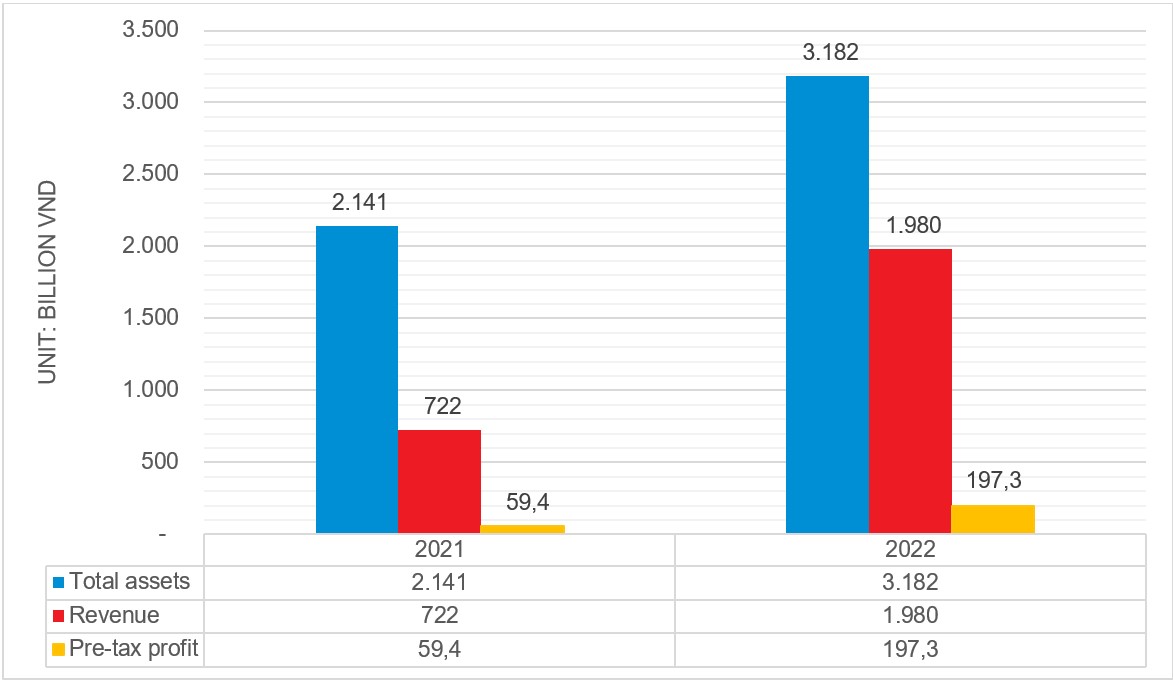 With the positive business results of 2022 along with the change in the brand identity, it's hoped that ASG will have a solid foundation and strong motivation to overcome challenges and continue to develop in the current Vietnam business context as well as the global economy is forecasted to have many difficulties in 2023.
View more about ASG Corporation's Q4 financial report here.