On June 7, 2022, in Hanoi, a Memorandum of Understanding (MoU) signing ceremony took place between ASG Corporation ("ASG") and Korea Investment and Securities Company Limited ("KIS") – The holding company of KIS Vietnam Securities Corporation ("KIS Vietnam").
Attending the signing ceremony, on the side of ASG Corporation, there was Mr. Duong Duc Tinh – Chairman of the Board of Directors, Mr. Ly Lam Duy – Member of the Board of Directors, and Mr. Truong Minh Hoang – Deputy General Director in charge. On the KIS side, there were Mr. Jung Il Mun – General Director of Korea Securities and Investment Company Limited, and Mr. Park Won Sang, General Director of KIS Vietnam.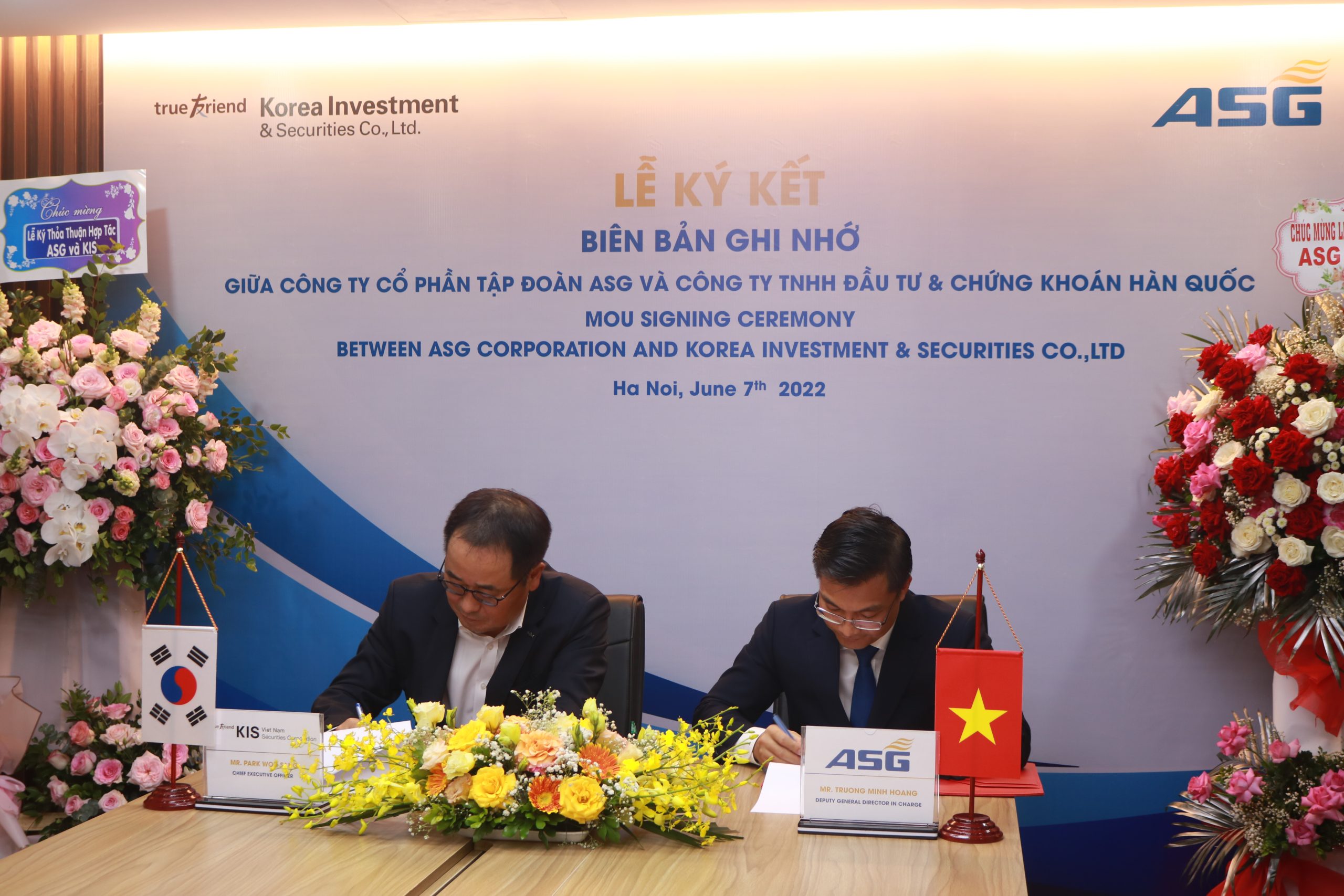 ASG Corporation is a leading name in the logistics industry in Vietnam. In addition to owning logistics centers at airports, large industrial parks, especially a large-scale off-airport cargo terminal specializing in serving Samsung Thai Nguyen Vietnam (SEVT) in Yen Binh Industrial Park, Thai Nguyen.
Since May 2022, ASG Corporation has officially become the holding company of Vinafco Joint Stock Company (VFC – HNX), a big name with rich experience in logistics, and at the same time "unifying" the integrated logistics ecosystem of- air, sea, and land. In addition, the field of airport services, infrastructure investment, and industrial park development are also strategic business areas being developed and expanded by ASG Corporation.
Meanwhile, Korea Securities and Investment Company Limited – KIS is a comprehensive financial investment company under the KIH Group with diversified profit models, realizing profits in all fields such as brokerage, asset management, and investment banking (IB). Since 2011, KIS has always led the securities industry in Korea in terms of net profit. Currently, KIS is constantly expanding its network of operations throughout Asia, especially in the Vietnamese market.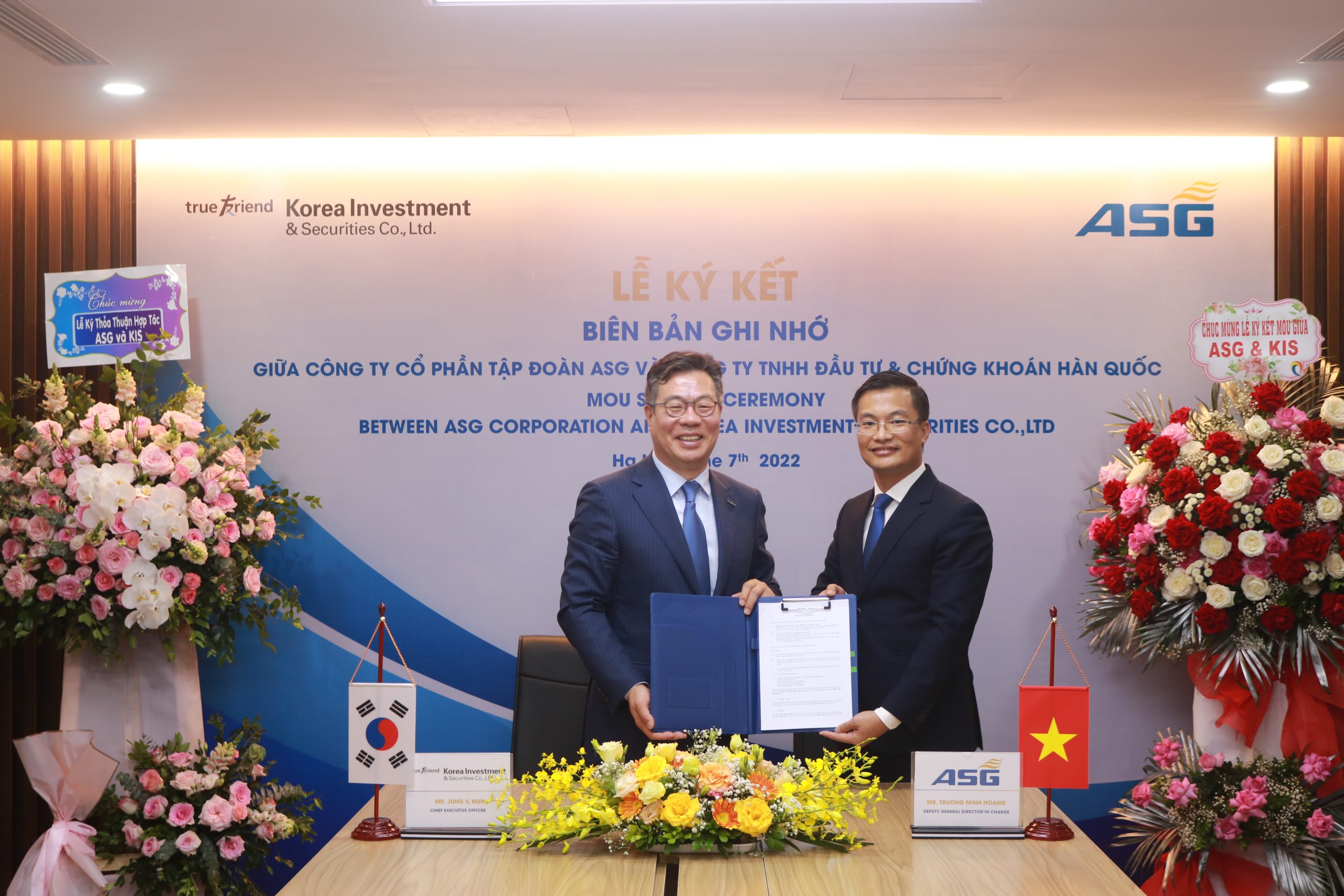 Within the cooperation framework between the two parties, KIS will coordinate with ASG Corporation in mobilizing capital in the financial market, including supporting bond issuance; seeking/introducing capital market investors to supplement resources for ASG Corporation to expand business activities in line with ASG's strategic business areas: logistics services, airport services, infrastructure investment & industrial park development; and corporate financial consulting. It is known that on May 25, 2022, ASG Corporation completed a bond issuance with a total value of VND 300 billion (around US $.12,7 mil), in which, KIS Vietnam acted as the main arranger and investor, to help ASG complete this deal.
Speaking at the ceremony, ASG's representative, Mr. Duong Duc Tinh – Chairman of the Board of Directors said: "The signing of this memorandum of cooperation demonstrates the trust and good relationship between the two sides. The spirit of sustainable development and long-term cooperation, together with the available strengths and potentials of both businesses, will certainly achieve positive results, enhancing the reputation and brand both of ASG and KIS."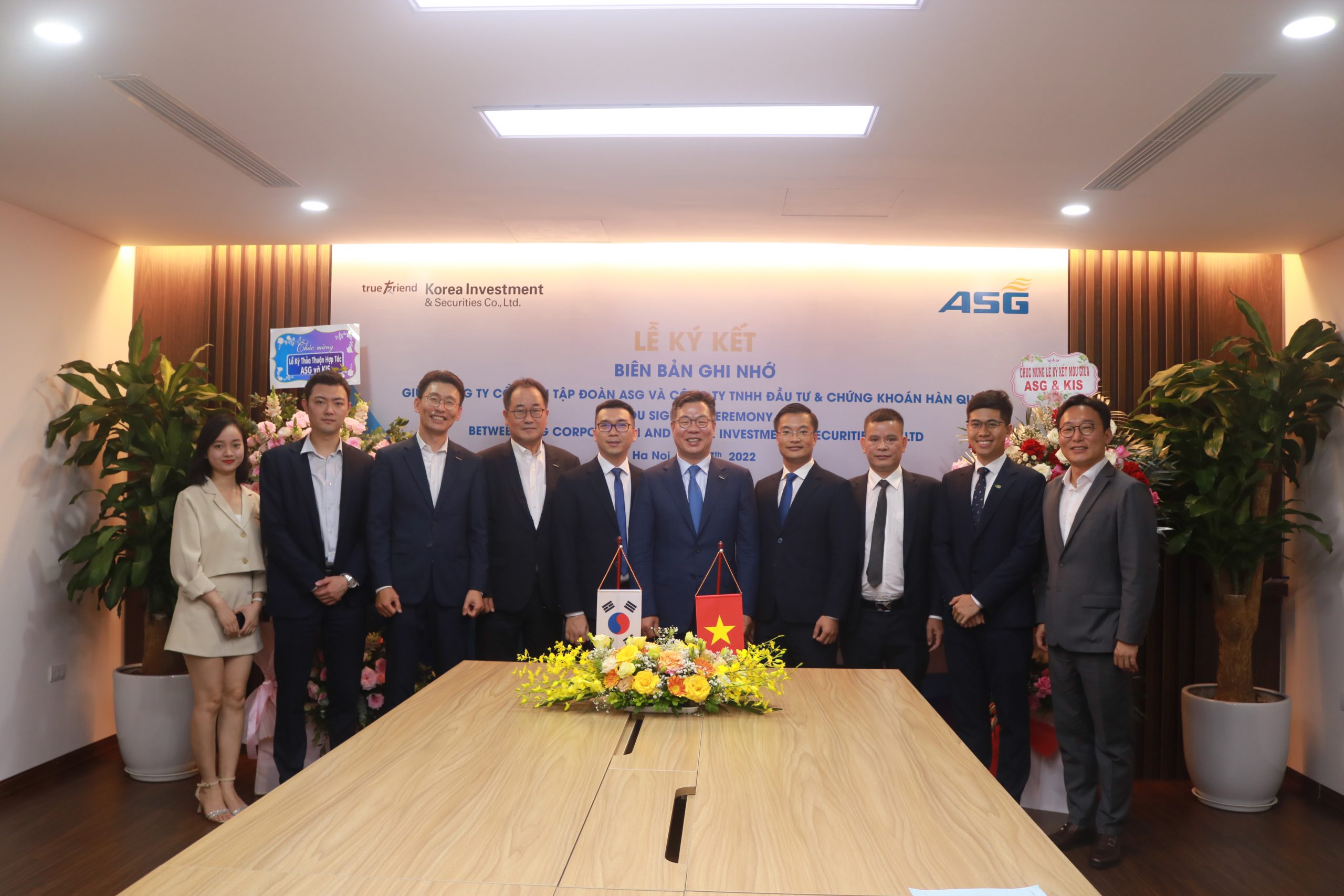 This is also an important result in the direction of closer cooperation and further expansion with foreign partners to concretize the strong development strategy of ASG Corporation.