On June 19, 2023, at the Logistics Service Center, Noi Bai International Airport, ASG Corporation (ASG) successfully held the Annual General Meeting of Shareholders (GMS) in 2023.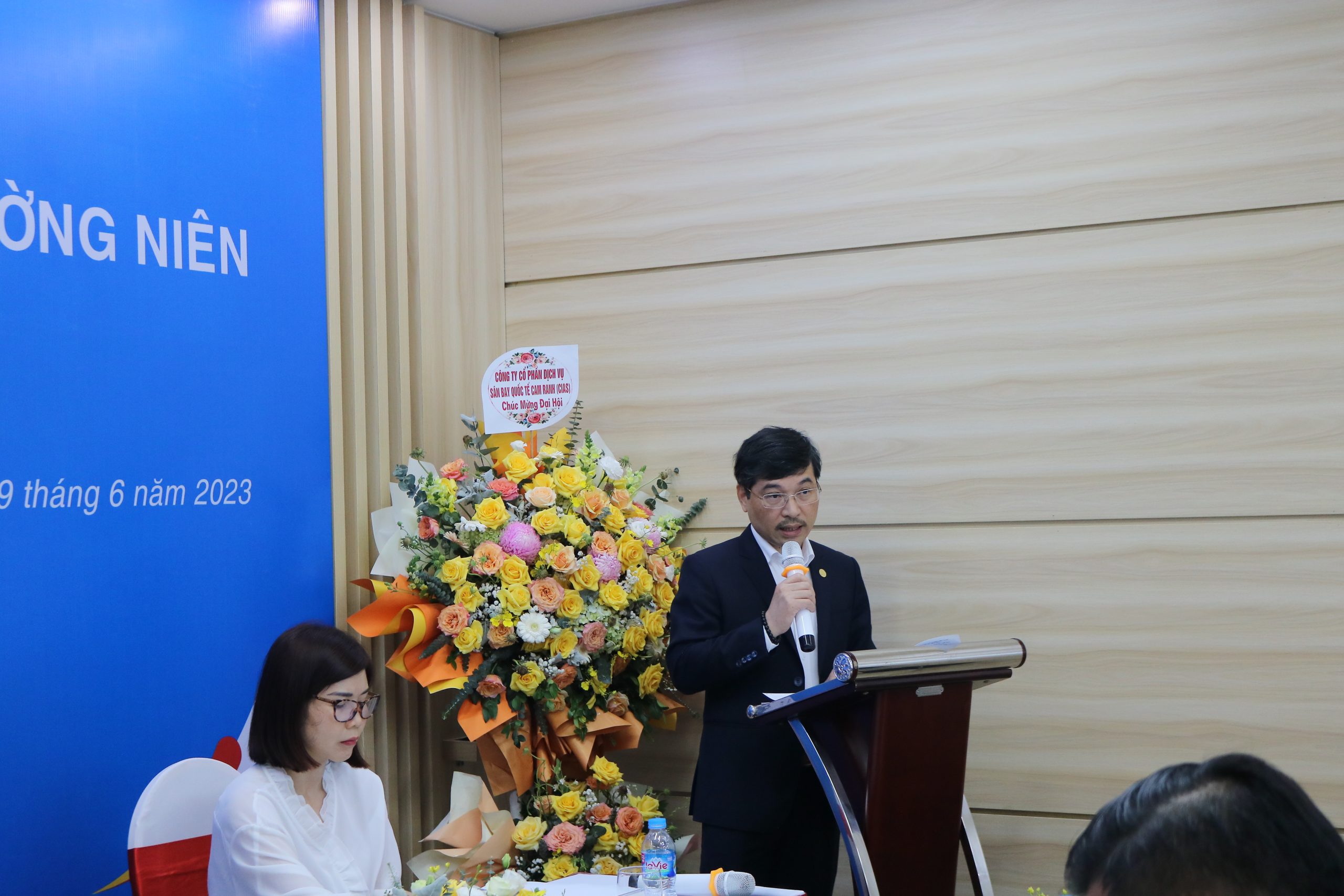 Mr. Duong Duc Tinh – Chairman of the BOD delivered a speech
Attending the meeting were the Board of Directors, Supervisory Board, Executive Board and Shareholders/Authorized representatives of shareholders representing more than 66.5 million shares, equivalent to more than 66.5 million votes decision, accounting for 87.9% of the Company's total votes. The General Meeting discussed and voted on the contents under the Annual General Meeting of Shareholders' approval authority.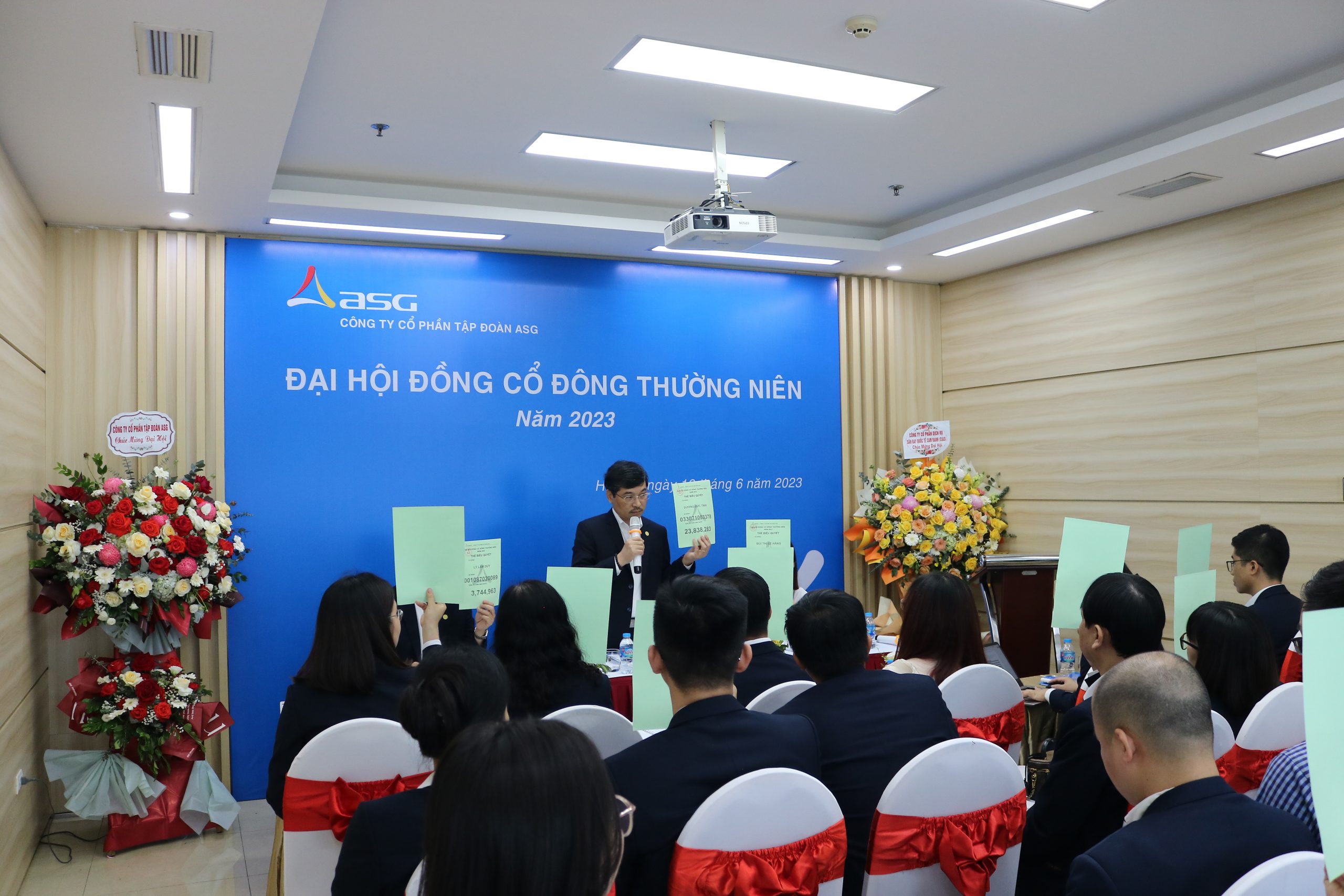 General Assembly Vote
At the General Meeting, the Board of Directors reported on the business results of 2022 and ASG's business plan for 2023. Accordingly, ASG has achieved positive results in market development, organizational structure, financial investment, and the development of critical projects. The Corporation has experienced positive changes, particularly in Logistics, which has made significant progress in terms of scale and operational network since acquiring and controlling Vinafco Joint Stock Company (VFC) in May 2022. Furthermore, Aviation has shown positive signs of recovery after being severely affected by Covid-19. Additionally, the Corporation has successfully issued bonds to Korean investors in Vietnam with a fixed interest rate of 9.5% per year, contributing to reducing capital costs in a high market interest rate environment. This also affirms ASG's reputation and capabilities in the capital market.
By the end of 2022, consolidated revenue reached over USD 89,498,255, completing 116% of the plan, consolidated profit after tax reached over USD 6,477,787, completing 117% of the plan, total assets and equity increased significantly increased compared to 2021 with results of USD 128,936,170 and USD 77,617,021.
Unit: USD
No.
Targets
Plan 2023
Implementation 2022

Plan 2023/

Implementation 2022

1
Total revenue
99,692,255
89,498,255
111,39%
2
Total profit before tax
3,783,489
8,580,382
44,09%
3
Profit after tax
2,341,702
6,477,787
36,15%
4
Authorized capital
38,953,702
32,193,106
121,00%
For 2023, the ASG Corporation's leadership anticipates a challenging year given the global and Vietnamese markets continue to be influenced by the impact of Russia-Ukraine war, unpredictable fuel price fluctuations, signs of economic recession leading to reduced consumer demand, and the contraction of the market size and production capacity, which directly affects the flow of goods and has a negative impact on ASG's Logistics. From a positive perspective, the business operations in ASG's Aviation are projected to experience growth due to the recovery of aviation and tourism. However, there are still concerns regarding the growth rate of the international tourism market.
Therefore, ASG Corporation's business plan for 2023 reflects its efforts and caution in the face of unpredictable market movements, not only flexibly responding to the decline in production and consumption, but also optimally improving the operational efficiency of all business fields and member companies within the system. At the same time, it aims to strengthen the research and development of new products and services and seek out and access effective capital sources for business and investment expansion.
During the discussion and Q&A session with shareholders, the company's leadership has openly and directly shared about the long-term growth motivation, critical projects, strategies, and specific actions to adapt and seize opportunities arising from the green production trend, environmental protection, and accessing appropriate sources of financing.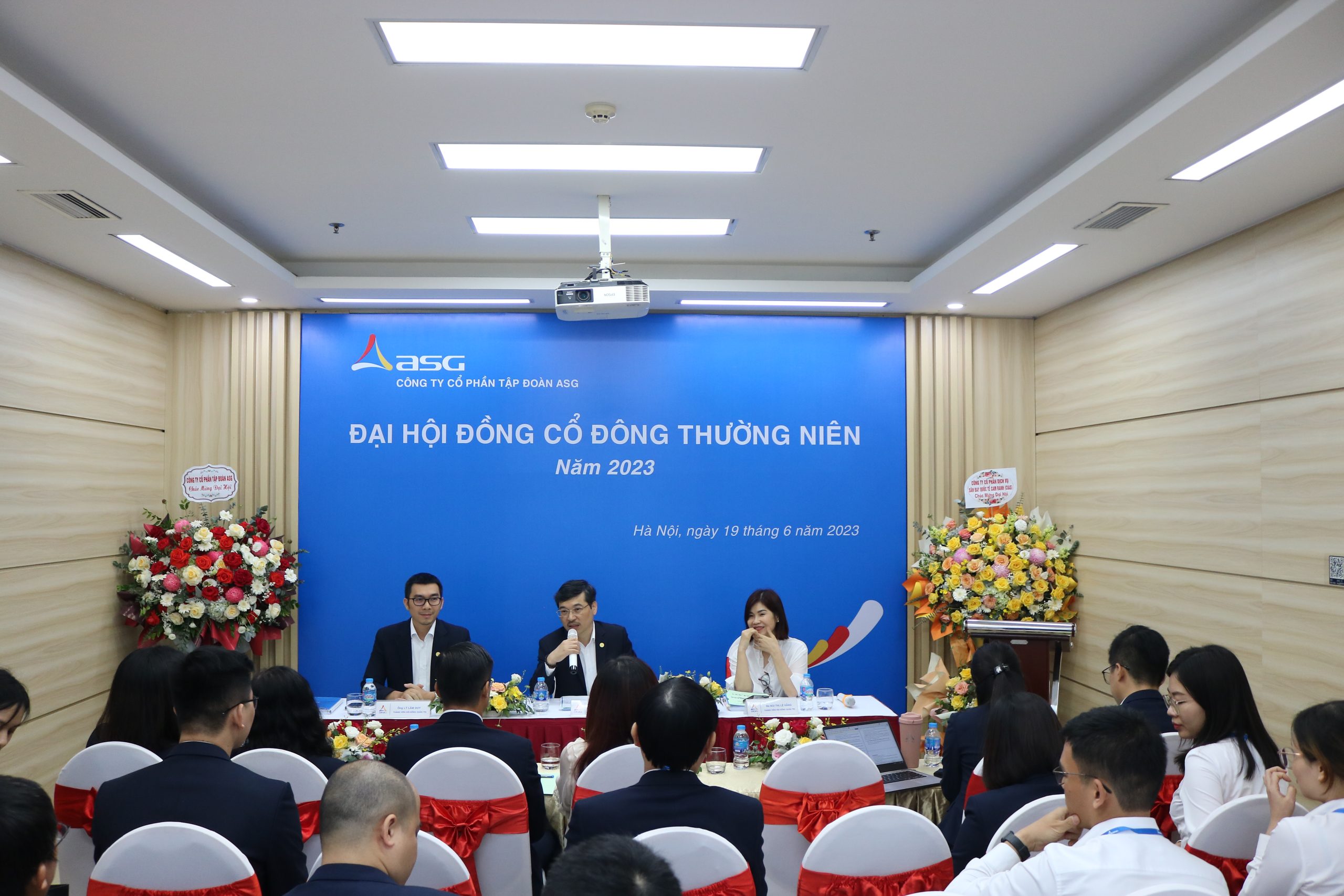 The Board of Directors answered questions and concerns of Shareholders
Also at the General Meeting, the Shareholders attending the meeting elected the Board of Directors and Supervisory Board for a new five-year term of 2023 -2028. The elected Board of Directors consists of Mr. Duong Duc Tinh, Mrs. Bui. Thi Le Hang, Mr. Truong Minh Hoang, Mrs. Tran Thi Bich Ngoc (Independent Member of the BOD) and Mr. Nguyen Hoang Son. The elected Board of Supervisors consists of Mrs. Nguyen Thi Le Hang, Mr. Nguyen Quang Dat and Mrs. Tran Thi Nhuong.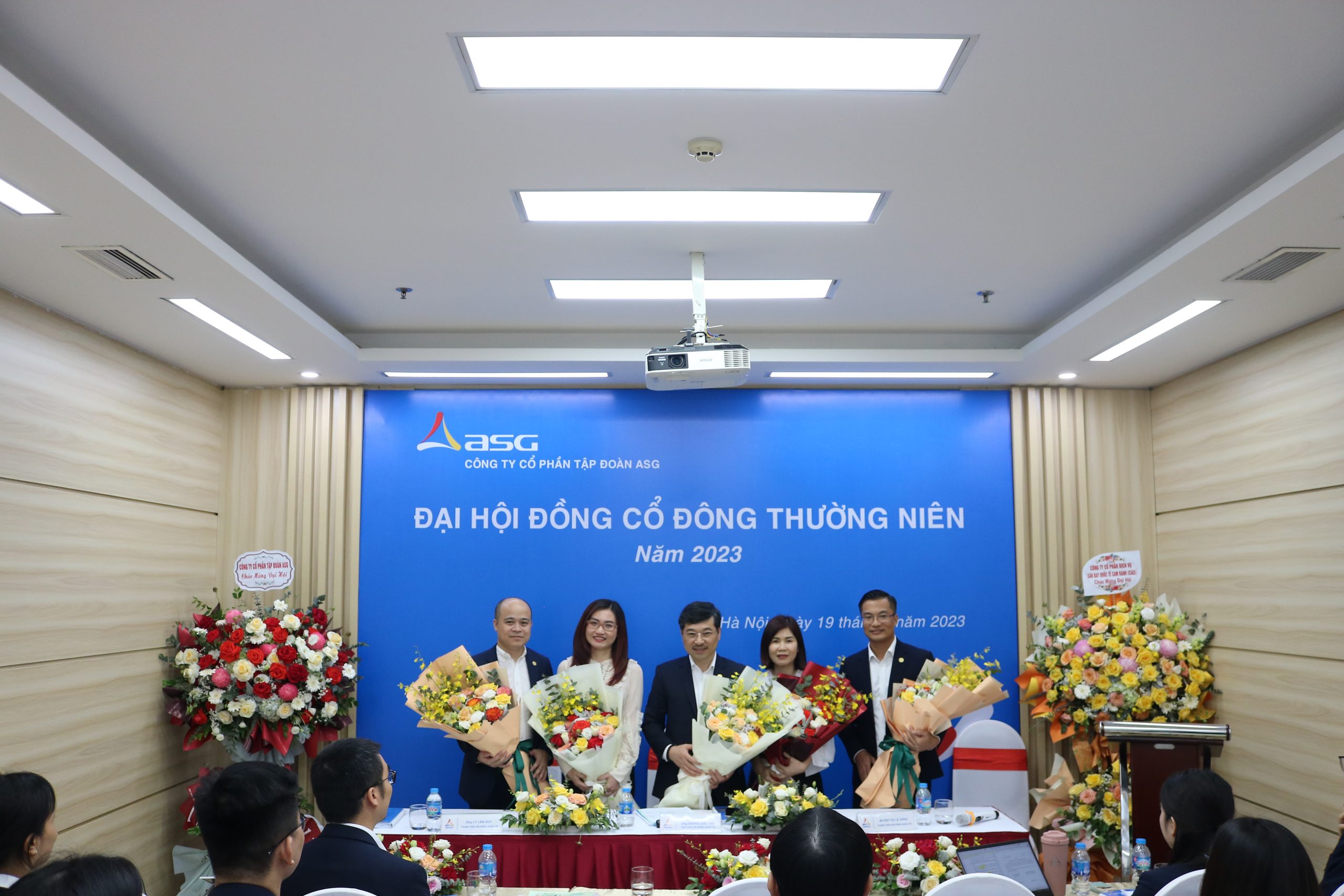 Member of the ASG Corporation's Board of Directors for the new term 2023 – 2028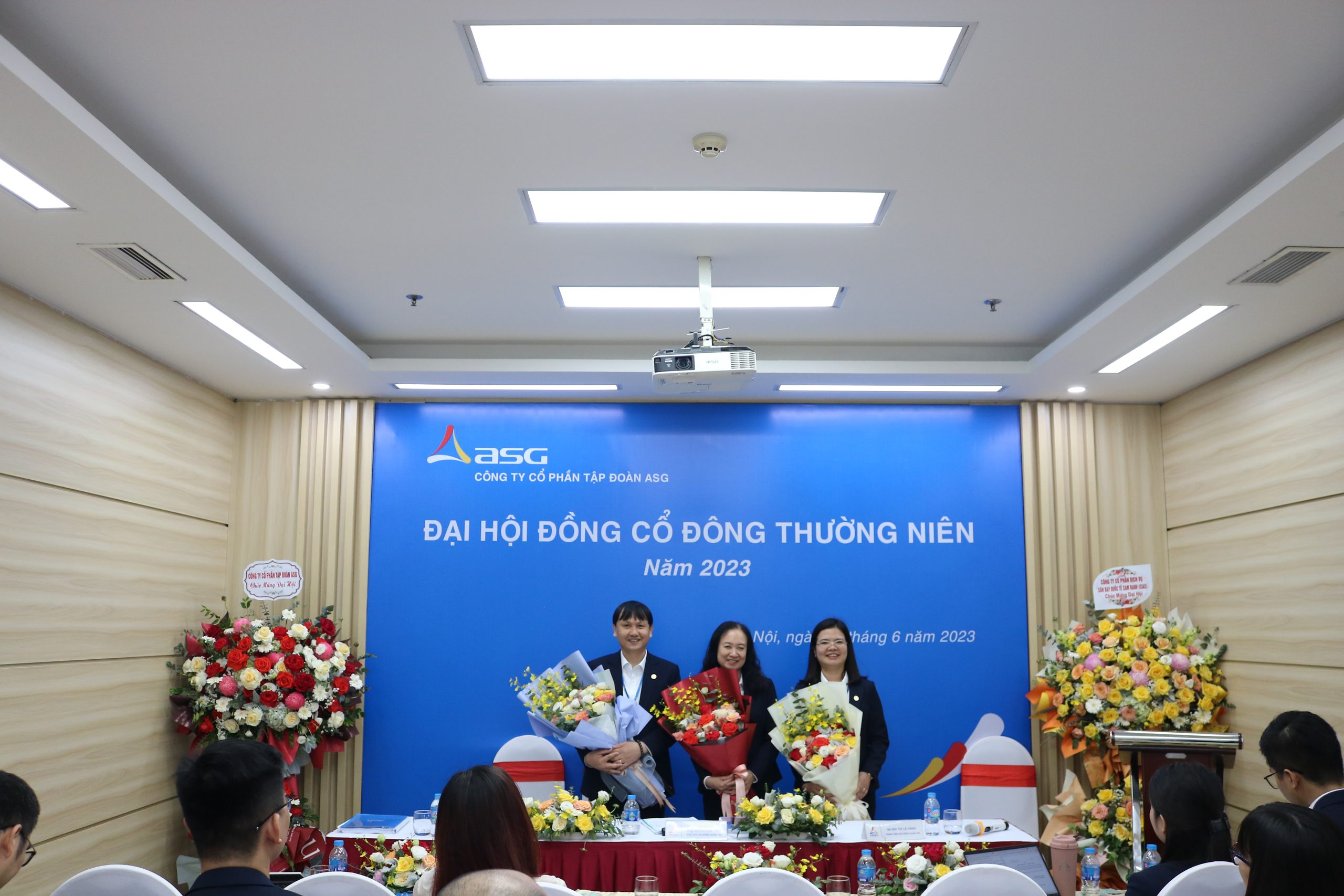 Member of the ASG Corporation's Supervisory Board for the new term from 2023 to 2028
With the trust and consensus of Shareholders, the ASG Corporation's Annual General Meeting of Shareholders 2023 took place successfully, all contents were approved by the meeting with a high consensus rate.