ASG corporation has just published its financial statements for the second quarter and business results for the first six months of 2022. Specifically, revenue from sales and service provision of the group recorded an increase of 435 billion VND, equivalent to 133,5%, and profit before tax reached 127,8 billion VND, completing 76,9% of the full-year profit plan.
According to ASG management, achieving excellent business results in the first half of the year, in addition to the recovery of the tourism and aviation market after 02 years of the Covid-19 impact, an important part comes from the consolidation of business results from Vinafco (VFC-UPCOM). The recovery from the aviation services group through CIAS and AGS recorded a 76,5% increase in ground services; food services and goods sales at the airport increased by 142,2%. Growth of existing business from transportation services increased by 56%; air cargo service by 6%. Along with the strong growth in revenue, gross profit increased by 82% over the same period. Besides, Vinafco's dominant ownership since May 2022 also helps ASG's overall business results grow strongly.
In general, in the first 6 months of 2022, ASG has achieved impressive business results with consolidated revenue of 760,2 billion VND, up 2,3 times over the same period; profit before tax increased nearly 5 times from 22 billion VND to 127,8 billion VND. Total assets grew by 56.3% from VND 2,025 billion to more than VND 3,166 billion over the same period. Total assets increased by 56,3% from 2.025 billion VND to more than 3.166 billion VND over the same period.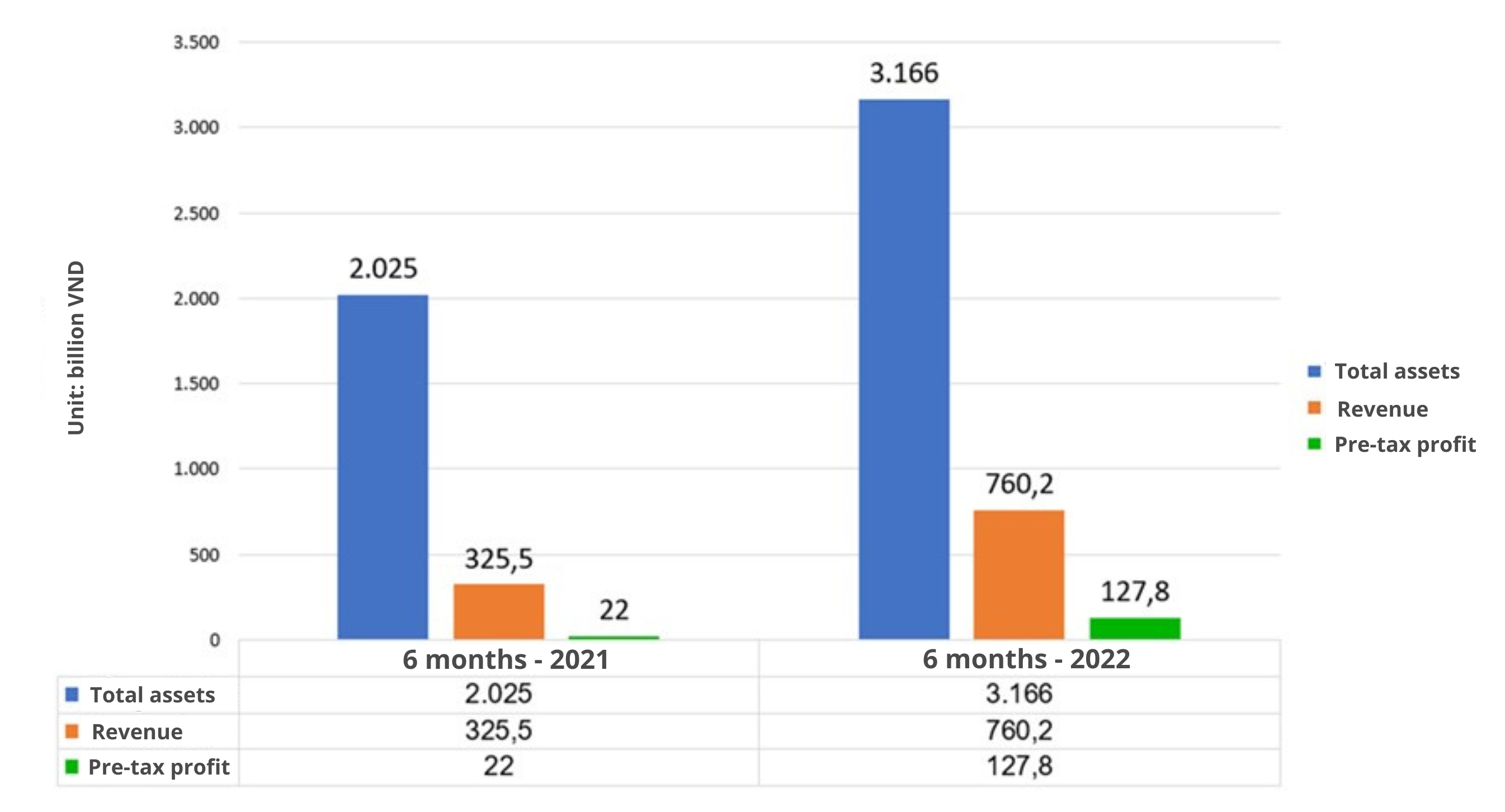 Meanwhile, looking back on the whole year 2021, due to the Covid 19 pandemic impact, ASG's consolidated business results have not been achieved as expected (a decline from the field of air passenger service) with revenue of 722 billion VND and profit before tax of 59,4 billion VND.
Along with the impressive recovery of business results, profitability indicators have improved markedly. Specifically, the accumulated EPS in the last 4 quarters reached 1.732 VND compared to 794 VND for the whole year of 2021; the 12-month cumulative return on equity (ROE) reached 12,1% compared to 5,7% for the whole year of 2021.
In 2022, ASG expects total revenue to reach 1.815 billion VND, 2,4 times higher, and profit before tax to reach 166,2 billion VND, increasing 2,8 times compared to the previous year. ASG corporation operates in 3 main areas logistics services, airport aviation services, infrastructure investment and industrial park development. In order to ensure investment capital in subsidiaries and project implementation in 2022, ASG does not pay dividends in 2021 as planned (15%) set out earlier. At the same time, the group also plans to issue shares to increase capital from 756,5 billion VND to 977,5 billion VND in the following forms such as issuing shares under the employee selection program (ESOP), issuing shares to existing shareholders, issuing individual shares to mobilize capital for medium and long-term investment plans. In addition, ASG also expects the dividend payout ratio for 2022 to be 15%.