Opportunity to reduce ticket prices
It took until 7 years after Vietjet went into operation for the Vietnamese market to receive the second private airline: Bamboo Airways. Remember, when Vietjet started to take off at the end of 2011, the Vietnamese airline market almost turned to a new page, the monopoly position was broken. From an expensive and luxurious means of transport, HK has become popular, the opportunity to take a plane is wide open to all people because the fare is only equal to or lower than the fare of trains and cars with the same baggage. submit. However, the demand for travel by HK continues to increase strongly, but the market still has only 4 operators, causing airlines to no longer invest much in taking care of the interests of passengers.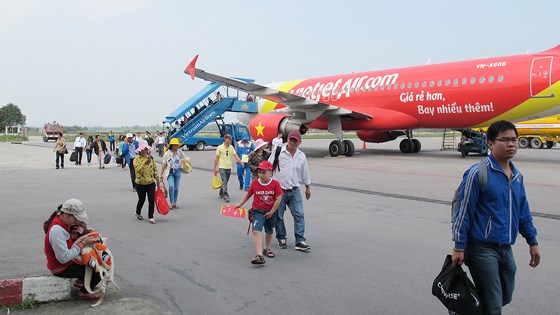 Vietjet initially only focused on the low-cost segment, has now announced that it is no longer pursuing this goal. And so, at some point, Vietjet is no longer cheap. The airline's ticket price for the same leg is equal to or even higher than that of Vietnam Airlines, surprising many consumers. Jetstar Pacific still focuses on the low-cost segment, but due to its small size, it hardly has much impact on the market. As a result, Vietnamese consumers have few options for domestic flights. Until recently, when Bamboo Airways announced its flight plan, the new market had a new wind. Consumers have one more option at a very competitive price. For example, flying from Hanoi to Da Nang is only 1.25 million VND/round-trip ticket; Hanoi – Quy Nhon is only 1.45 million VND/round-trip ticket, including taxes and fees and free meals.
According to HK experts, having one more airline will definitely make the market more exciting, creating opportunities to reduce ticket prices even more because the price of airfares in general, especially domestic tickets in our country is quite high. high compared to other countries. Currently, countries in the region have many domestic firms participating in the market, for example, Thailand has 13 firms, Indonesia 15 firms, Malaysia 6 firms… As a more populous country, Vietnam has only 5 firms so far. . This number has not yet ensured the best interests for people and tourists in choosing routes and flights, and has not created the necessary competition in terms of ticket prices and service quality. Up to this point, the domestic tour price is sometimes still more expensive than the international tour price with the same flight distance and length of tour (eg tour to Thailand, Korea), which is the reason for the high airfare. .
Has the quality of service increased?
According to Mr. Vo Huy Cuong, Deputy Director of the Civil Aviation Administration of Vietnam, the higher the market's competitiveness, the better the service quality will be, because it will gradually remove the imposition from the carrier. In fact, many airlines have increased convenience for guests with many services such as airport transfers, online payments, baggage check-in in the city, ticket sales with hotels, etc. However, Due to the rapid growth of the market, recently, the service quality of some firms has gone down. Most airlines receive complaints from passengers about the behavior of their staff.
In particular, many passengers are annoyed by the airline's "top-door" attitude, requiring guests to strictly comply with the time and regulations, while the airline constantly violates, only serving perfunctory, not apologizing, do not compensate, do not provide information about the flight in accordance with regulations whenever there is a delay or cancellation… Recently, Vietjet and Jetstar Pacific have also been strongly reacted by passengers when suddenly tightening regulations on luggage weight. portable after a long time allowing flexibility.
Representatives of HK airlines said that the overcrowding and crowding at the major airports of Noi Bai and Tan Son Nhat had affected airlines' services. In addition to Vietnam Airlines, which has the advantage of having a stake with the Airports Corporation of Vietnam, other airlines are completely dependent and at a disadvantage when the infrastructure is overloaded, for example, they rarely use telescopic tubes. far away parking space… When Van Don airport is put into operation, representatives of airlines believe that they will be served fairly. This also explains why some private airlines want to invest in the port, for example Vietjet Air proposes to invest in expanding Tan Son Nhat airport, FLC wants to invest in Sa Pa airport. According to airlines, investment in port infrastructure will contribute to reducing operating costs in the future, providing synchronous and convenient services for passengers.
Talking to PV, Minister of Transport Nguyen Van The said that having more airlines and private airports come into operation will definitely have a positive impact on the market, consumers will have more choices. Service quality will also be enhanced by competition. However, to ensure safety, the Ministry of Transport will inspect the entire operation of the new airline and airport as well as closely supervise in the early stages. The Ministry also affirmed that the Ministry of Transport will strengthen management so that the HK market develops healthily, not because of growth but neglect service quality, affecting the interests of passengers. Firms that violate current regulations will be severely dealt with.
Citing electronic information sources: "Vietnam aviation market 2019", See at: https://www.tapchihangkhong.com/thi-truong-hang-khong-viet-nam-2019/